Pure • Nourishing • Luxurious
Regular price
Sale price
$13.70 USD
Unit price
per
Sale
Sold out
This pure organic skin food is rich in antioxidants and gives the skin a vibrant, youthful glow. Use as an all-over daily moisturizer to revitalize dry skin and as a nourishing treatment mask for lustrous, shining hair. Put a spoonful into a hot bath for a most decadent bathing experience! It is also a luxurious, intimacy-enhancing massage oil.
Rose nourishes the heart and encourages love and serenity. Softening, soothing, and hydrating, it acts as a tonic and gently stimulates skin cells.
Ingredients

♥Cocos nucifera (coconut) oil, ♥Rosa damascena (rose) petals, Rosa damascena (rose otto) oil.
♥Organic Ingredient
To Use

Use as a daily body moisturizer by rubbing generously into skin. Can be used anytime throughout the day but will absorb best on damp skin.

For a nourishing hair treatment mask, gently massage into hair and scalp and let it soak in for 1-2 hours before rinsing with warm water and washing normally with shampoo and conditioner. Protect clothing by putting a towel around shoulders or applying while in the shower or bath.

Coconut oil changes from solid to liquid above 76 ̊ & crystalizes into beautiful forms as it cools. It can be refrigerated or gently warmed before use. Not latex friendly. Sediment is natural.

Share
View full details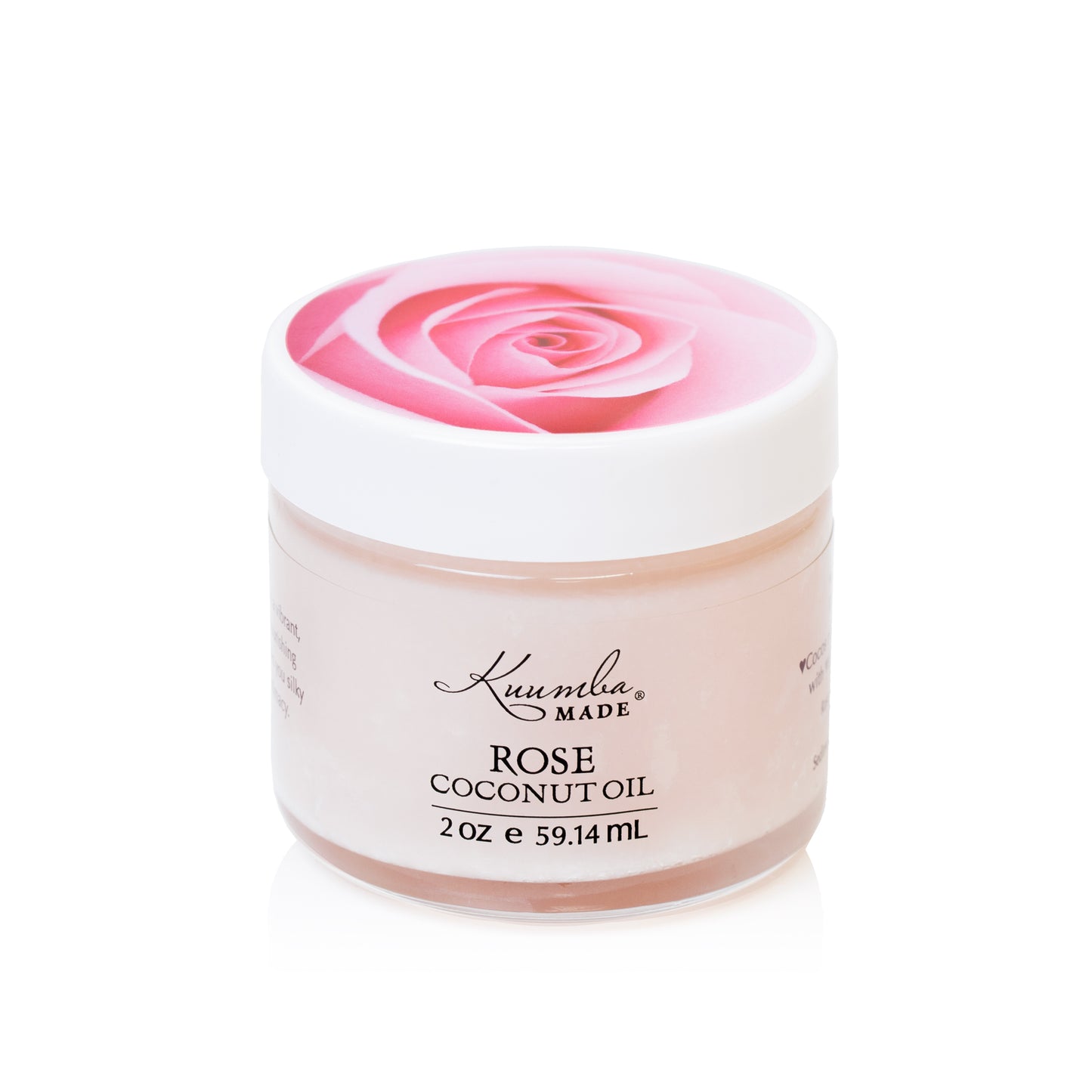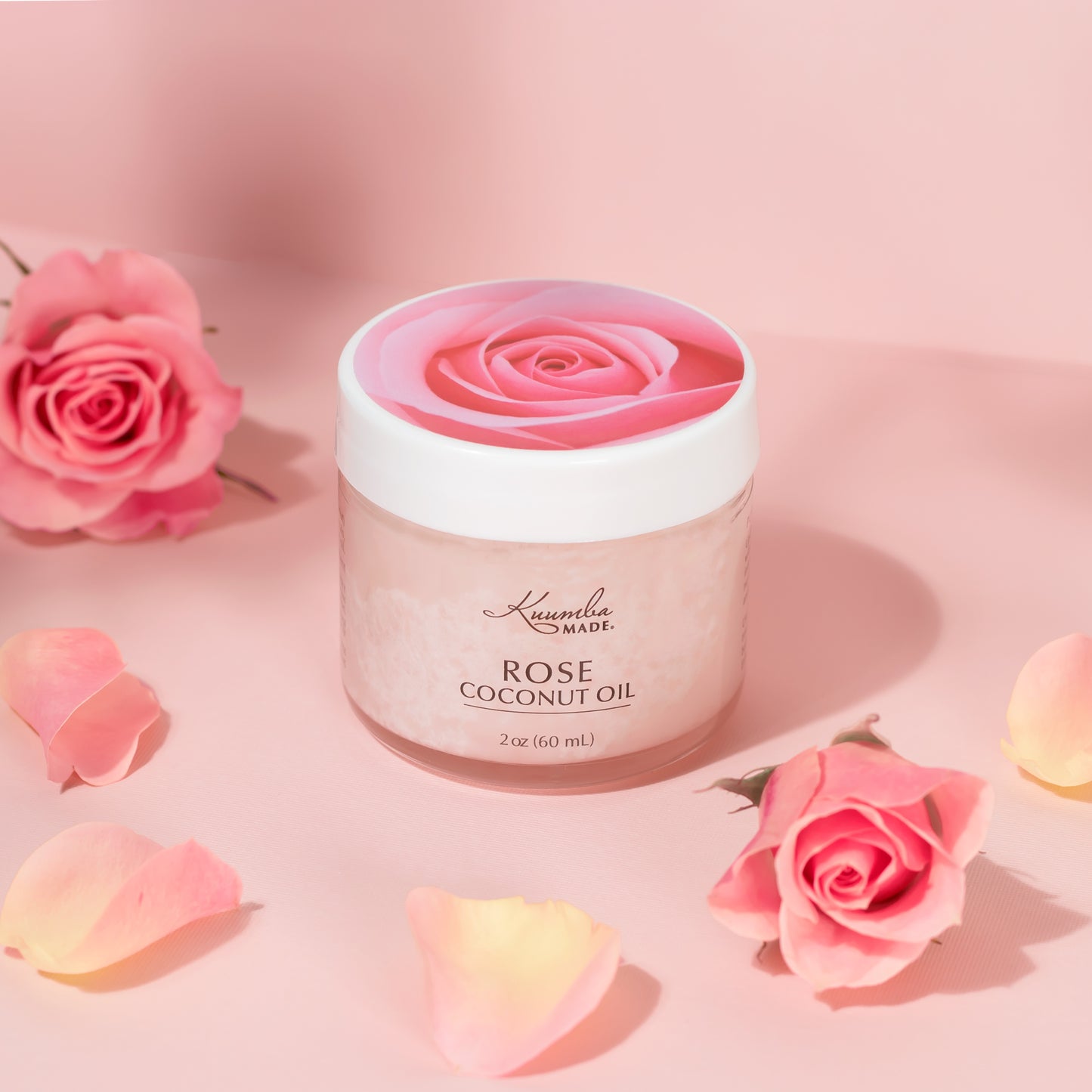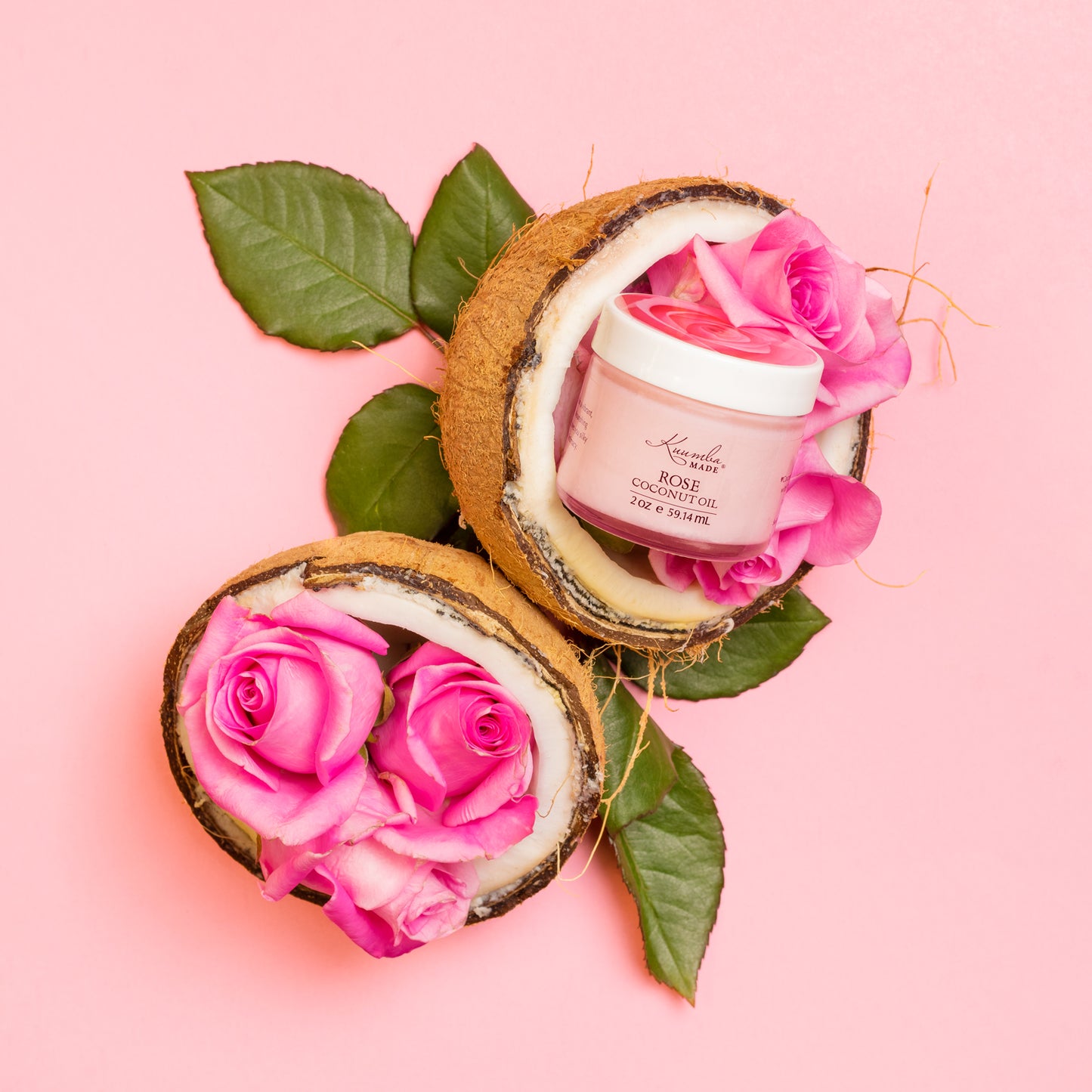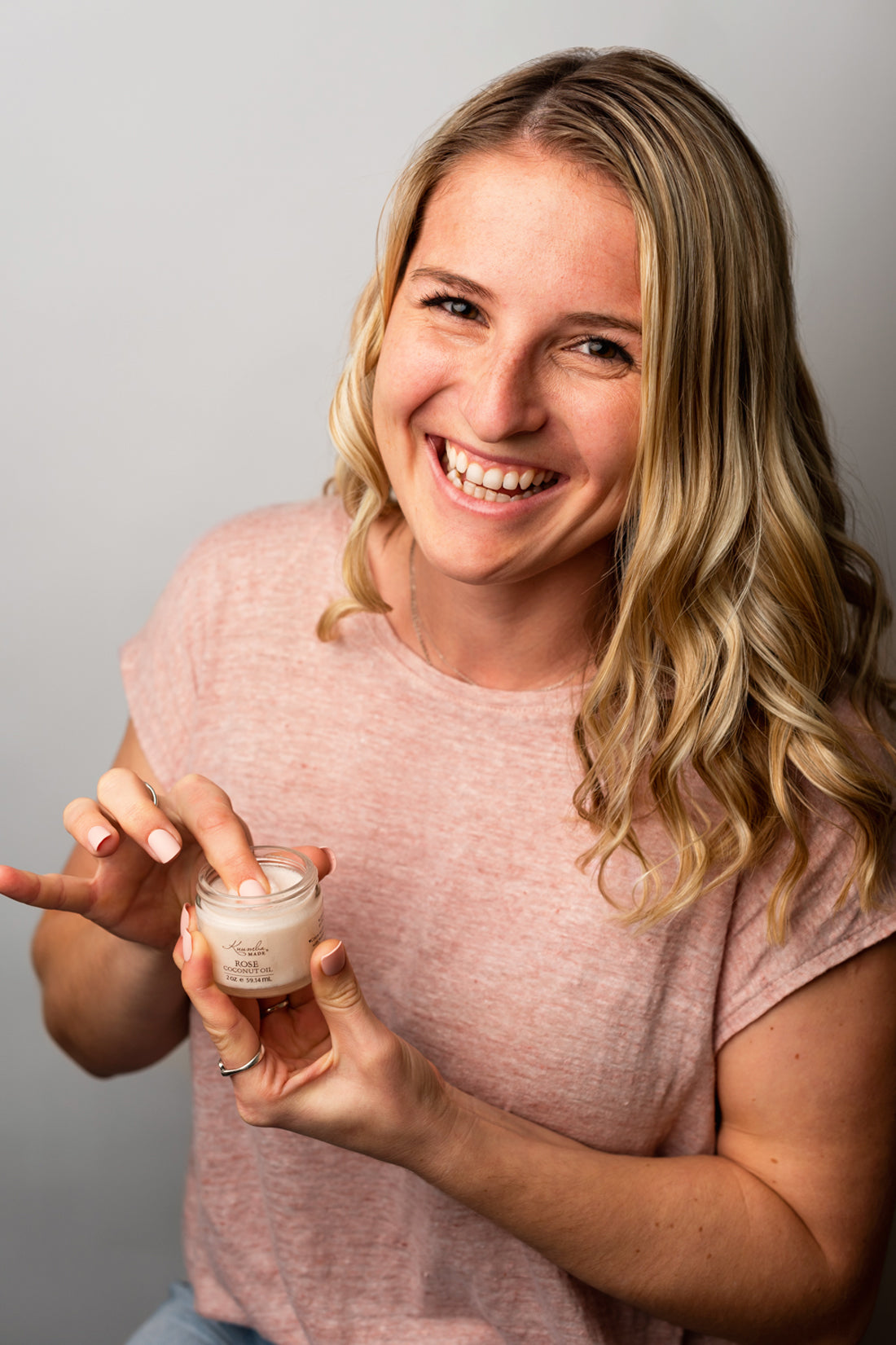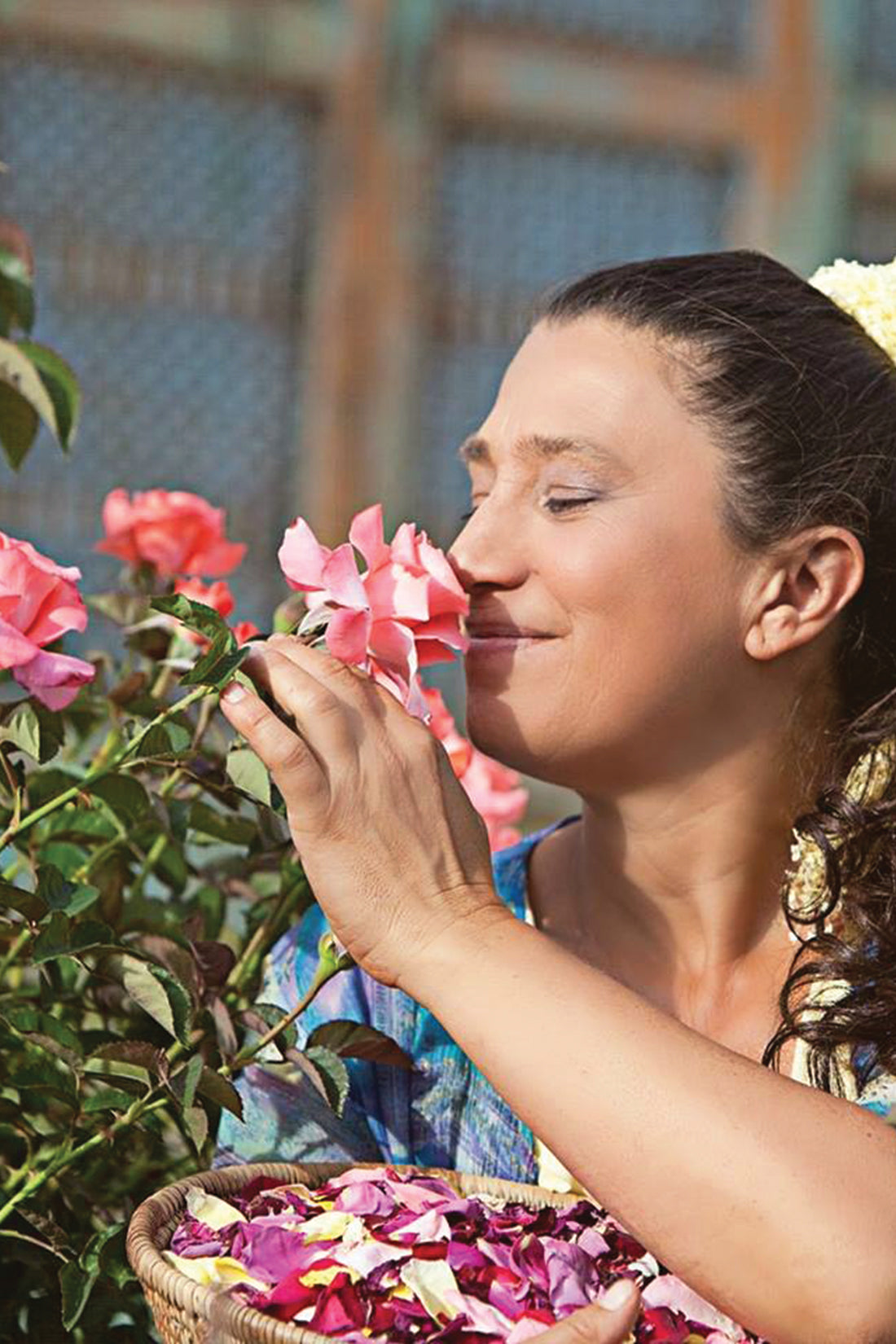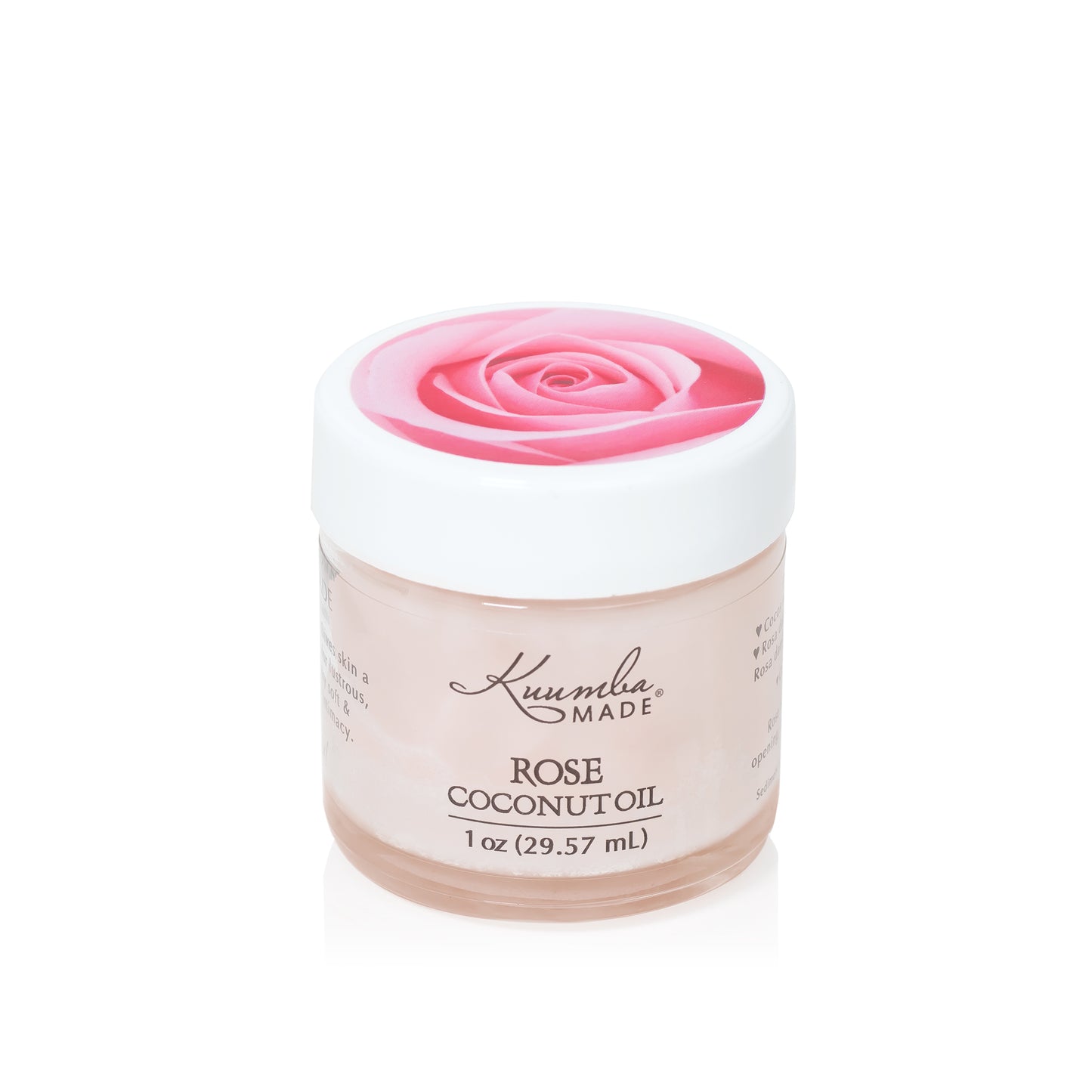 wonderful for the skin!
I used to use just whatever soap was in the shower to wash my face each morning but now that I am more 'mature' (ahem....) I wanted to start integrating a more decisive routine to keep my skin looking it's best. After research, I decided on using coconut oil to wash my face each morning, followed by a very mild cleanser such as Cetaphil. Wow, my skin is really responding to the oils I have been using! My face is just so soft, supple and glowing. I often get comments on my skin and am loving that! This coconut oil is such a beautiful high-quality product and perfect for many many uses on keeping skin soft and healthy.
soothingly wonderful!
I was reading online the other day about using coconut oils to wash your face with. I was intrigued and had a small amount of my rose coconut oil I bought here awhile back and so I gave it a try. I have oily skin and would have never thought that this would be suitable for my skin type. But wow!! It felt so amazing and afterwards my skin felt very nice, silky soft and not oily at all. You need a washcloth saturated in very hot water to do this the right way and if you feel like your skin is too oily afterwards you can use a gentle cleanser such as Cetaphil, which I regularly use. I'm going to experiment with this but I'm pretty excited to start washing my face in coconut oil...it feels amazing and I am loving it. Now that I am entering my older years, I know I need to make sure my skin has the care it needs. Kuumba products are the key to healthy skin that is not quite young anymore. And of course, good for young skin too! I am so glad that we have so many lovely offerings to choose from here at Kuumba-Made. Thank you for all your hard work in years past to make this possible for us!! I know I am a life-long customer and will tell others about these valuable products.
Rosey Bottom
I found this in a Sprouts store and have been in LOVE with it ever since. It can be used all over and leaves my skin smelling wonderfully delicate and glowing.
Dear Rosey,
We're so happy you feel the purity and energy of rose. 40 years ago Kuumba began making rose coconut oil using roses she that grew in her garden. Today, people are still in love with this classic favorite! Enjoy!