Soften ● Brighten ● Rejuvenate
Regular price
Sale price
$26.00 USD
Unit price
per
Sale
Sold out
Ideal for mature and hyperpigmented skin.

This organic skincare superhero is cold-pressed from the seeds of Chilean rosehips.
It is a remarkable natural moisturizer that can be applied day or night for a youthful, healthy-looking glow.
An abundance of beneficial fatty acids and vitamins brighten the complexion, plump the skin, and improve the appearance of dark spots and uneven pigmentation.
This facial oil is suitable for all skin types, especially for those with sensitive, mature, or sun damaged skin.



About Our Facial Oils
Kuumba Made nourishing Facial Oils are sustainably sourced and carefully chosen to optimize skin health and radiate natural beauty.

Our Fair-Trade Organic Chilean Rosehip Oil is wildcrafted in the foothills of the Andes Mountains in Southern Patagonia.
The land is protected by the National Park and accessed through a government contract that directly benefits the local indigenous Mapuche community. 
The growing environment is ideal with a combination of intense sun exposure and fresh mountain water run-off that provides essential nutrients and antioxidants to the rosehip plants, including powerful Vitamin C.
Ingredients

♥Rosa rubiginosa (rosehip) seed oil, ♥Salvia rosmarinus (rosemary) antioxidant extract.
♥Organic Ingredient
To Use

Apply 3-10 drops to cleansed and toned skin. Perfect for use with our Botanical Facial Mists.
Share
View full details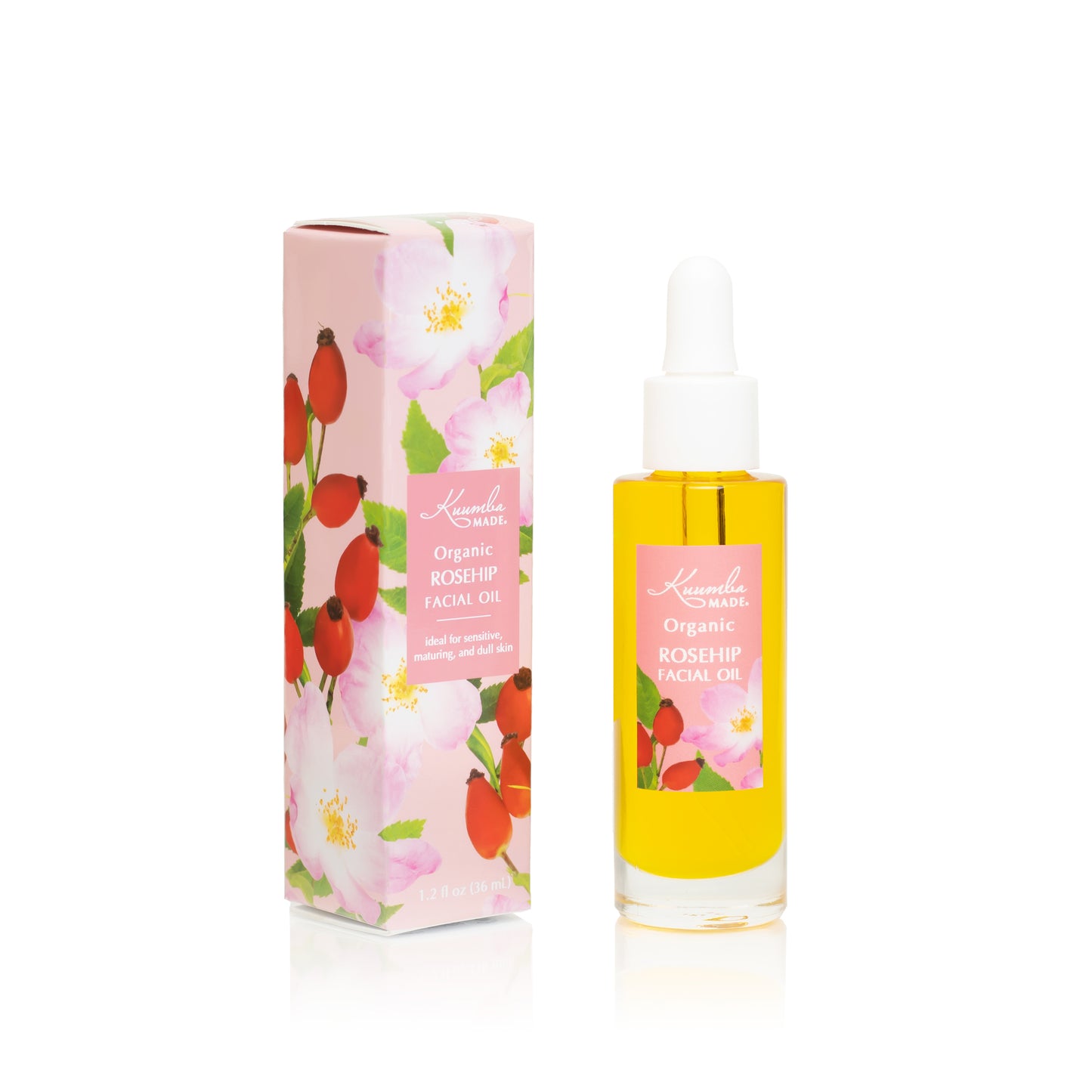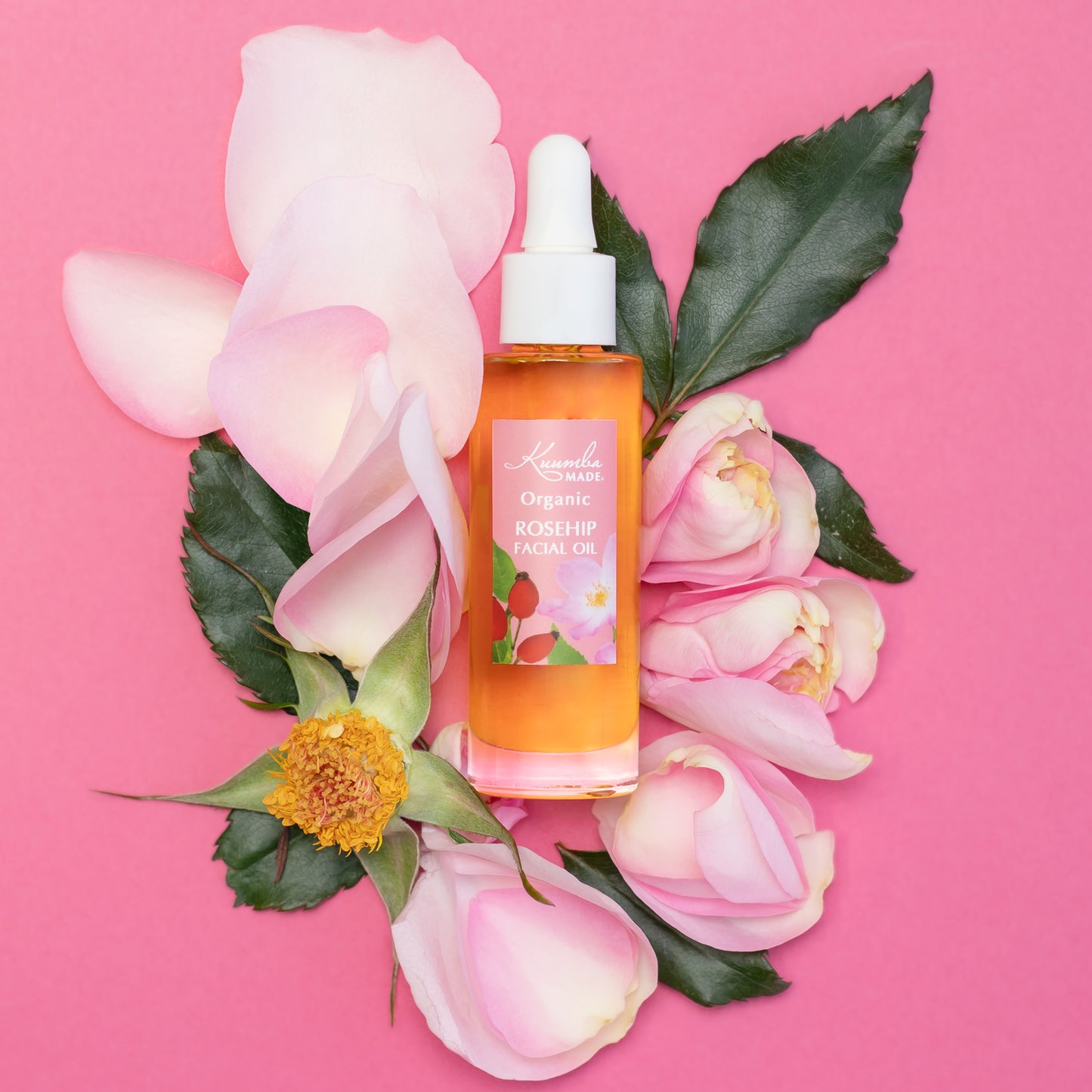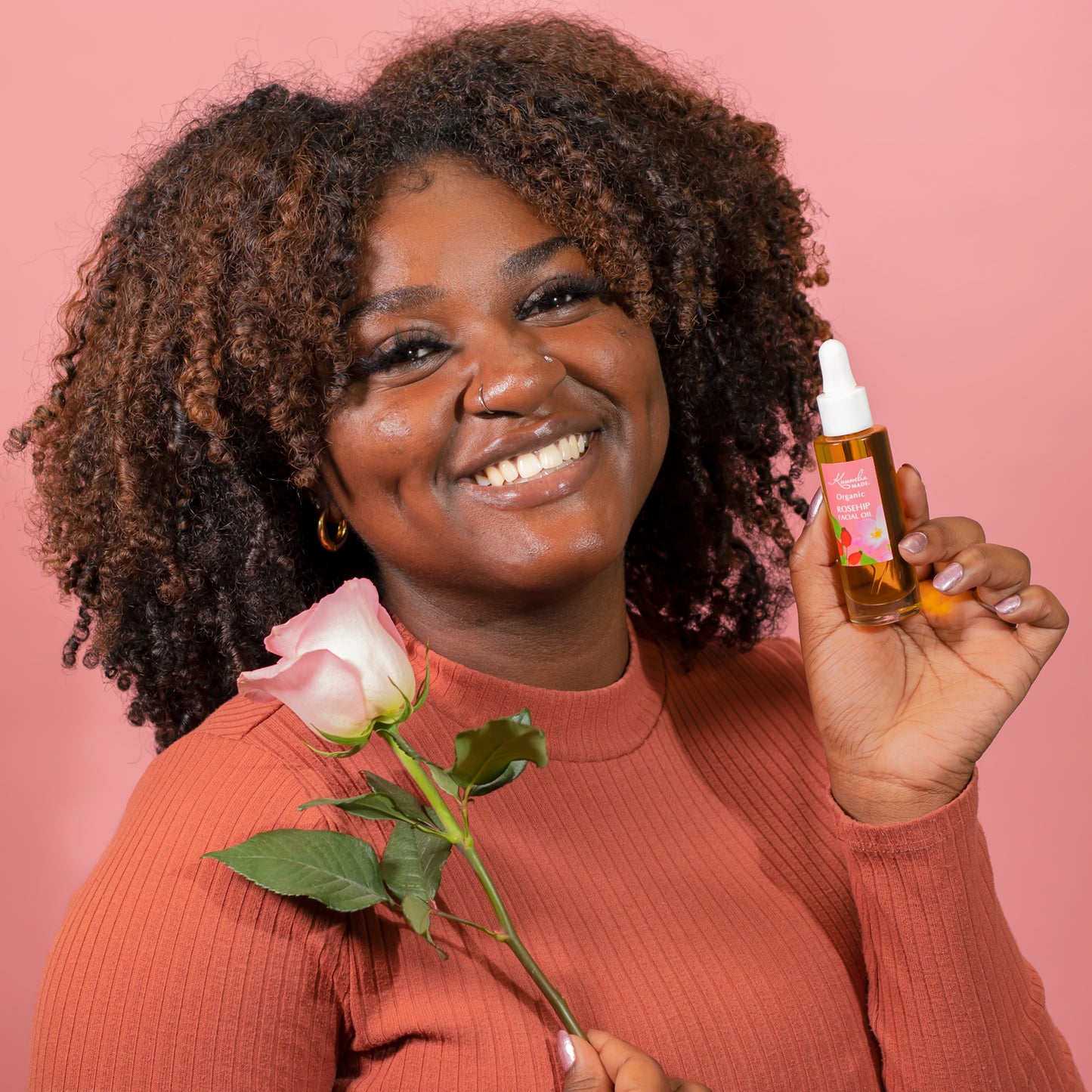 A wonderful product!
I just ordered a bottle of this incredible rosehip facial oil and have to say how much I already love it! Since I wear a CPAP at bedtime, I have to be careful about what I can put on my face because of the nose piece. If I put anything greasy on my face, the nose piece will slip around and make using the CPAP a nightmare. About an hour before bed, I am using the recommended amount of oil onto my gently cleansed face, massaged it in lightly and then went on to my usual nightly activity of reading before bed for a few hours. When I went to put on my CPAP, I had absolutely no problem with greasy skin and slippage...my face just felt wonderfully moist and not greasy at all. I am so happy to have found such high quality products for my skin, especially as I age and go into the senior years. Now could Kuumba come up with facial cleansers? I also have to say that I used this on my neck and chest at the same time I treated my face with the same wonderful results! Thank you again Kuumba!!
SO Nourishing!
I LOVE this Organic Rosehips facial oil! It is so light and smooth and moisturizing. I feel like my skin is so nourished and healthy. By itself it has a very little fragrance, which is nice if you are sensitive to scent. When paired with the Organic Rose Hips facial mist it has a sweet, subtle rose fragrance. And the packaging is beautiful! I highly recommend these!