Gentle • Safe • Effective
Regular price
Sale price
$16.00 USD
Unit price
per
Sale
Sold out
For skin irritations, itching, rashes, bug bites, minor wounds and burns.
This highly versatile salve provides soothing moisture to dry skin, minor wounds and burns, bug bites, hemorrhoids, and rashes. It is carefully formulated with organic herbs known for their supportive and regenerative qualities. Safe for pets.
Our Medicine Garden Botanically-Infused Oil is a similar formula and a great vegan alternative as it is beeswax-free.
Ingredients

♥Olea europaea (olive) fruit oil, Cera flava (beeswax), ♥Symphytum officinale (comfrey) leaf and root, ♥Calendula officinalis flower, ♥Stellaria media (chickweed) leaf, ♥Plantago major (plantain) leaf, ♥Echinacea purpurea flower and leaf, ✿Hydrastis canadensis (goldenseal) root, ♥Aloe barbadensis (aloe vera) leaf, ✿Commiphora myrrha (myrrh) resin.
♥Organic Ingredient ✿Wildcrafted
To Use

Apply frequently to affected areas.
Share
View full details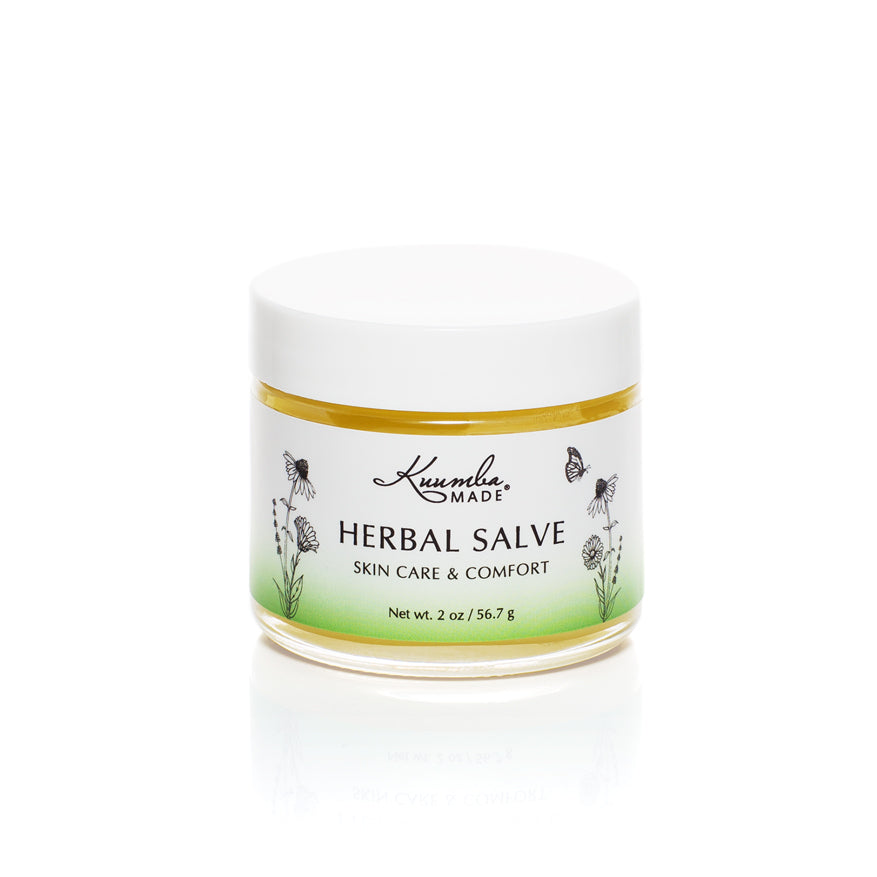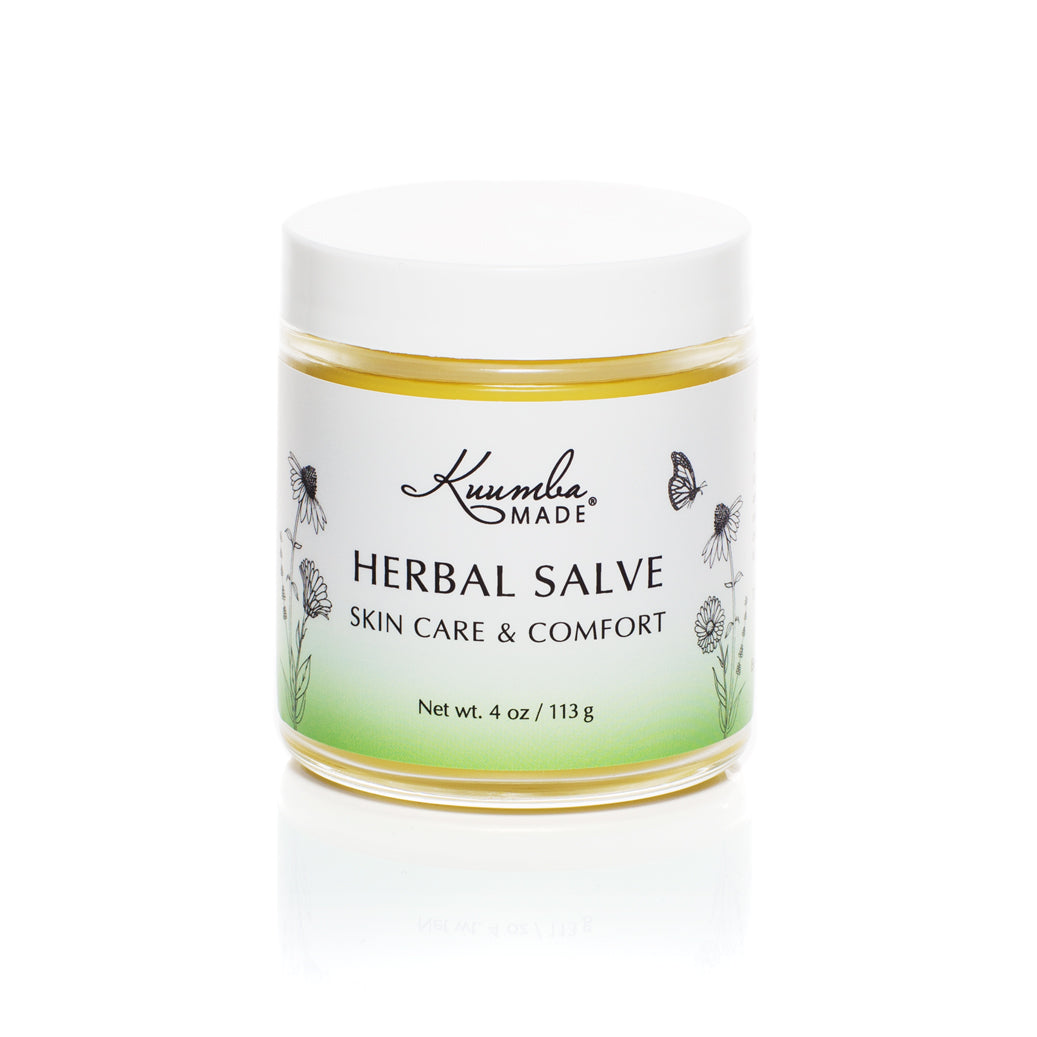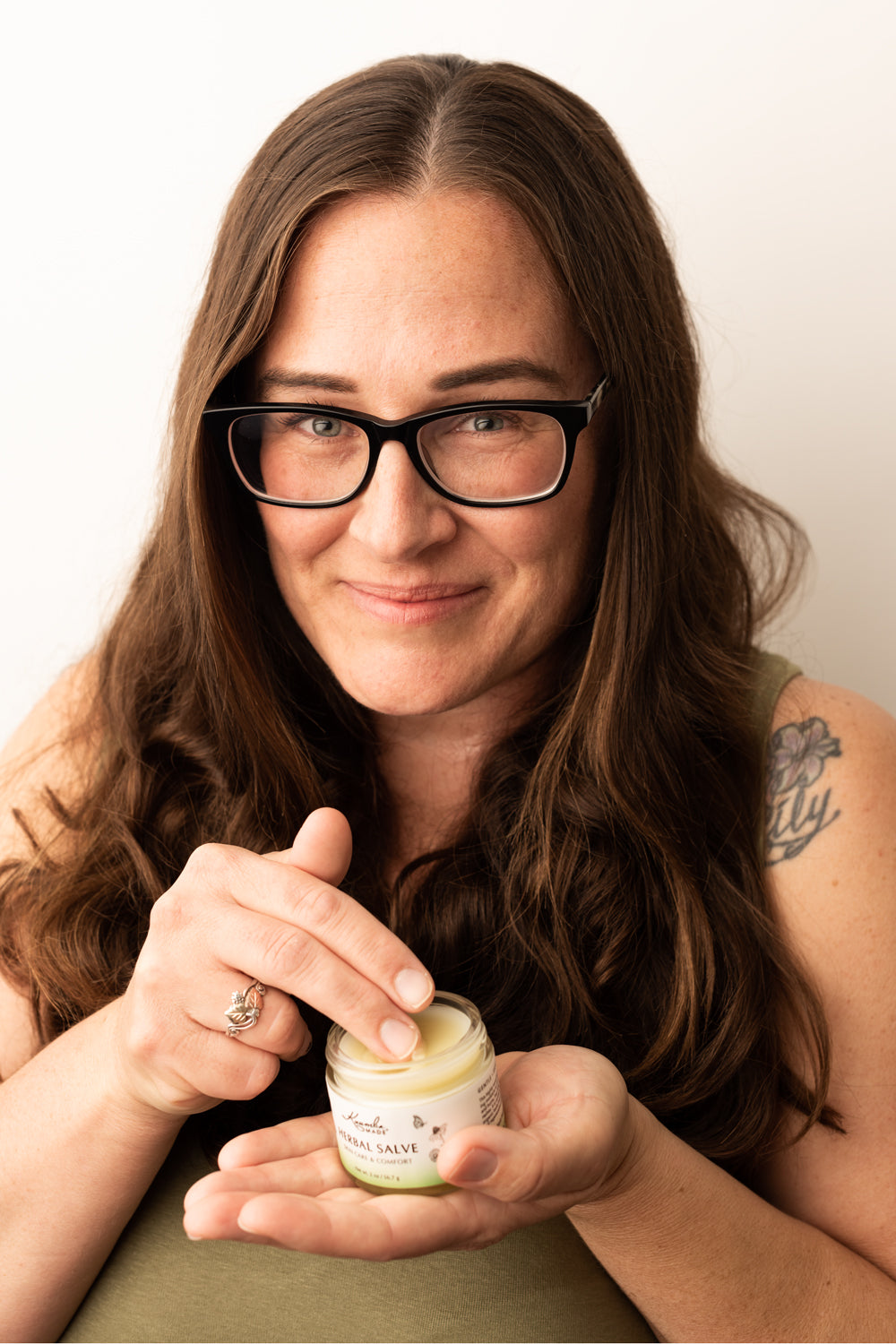 Just smell the goodness!
This is a lovely jar of wonderful healing! I use this for a plethora of skin ailments as they may crop up through the year...bug bites, chapped lips, chafed skin, etc. Your skin will love you for using this incredible ointment, it truly is a lovely soothing balm full of only the good things, no nasty unnecessary chemicals to interfere. I buy this by the largest jar and use for many things. It is wonderful on irritated dry skin...I can apply before bed and the next morning my skin issue is gone! I'm so happy that Kuumba has gone into making such wonderful balm, oils, and the like. My skin has never been happier, even though I am aging! THANK YOU KUUMBA!!
Amazing for many things!
I have tried this salve for many things, it is wonderful.
When my daughter came home with sunburn, it was very soothing, and she only needed to use it for two days.
After Prom, my daughter's boyfriend asked if I had anything he could use on his neck, where his dress shirt had chafed badly. One use, all gone in the morning!
This week, I was pan cooking, and got a spatter of Olive oil across the back of my wrist, going up the arm - painful!! The Herbal Salve eliminated the pain immediately, and in 36 hours, (3 applications later) no sign of the burns!
I LOVE this stuff!
(Granted, These were surface burns, and serious, deeper burns should be seen by a doctor.)
RELIEVES MY [redacted]
I found this healing salve at Austin Pecan St Festival and decided to try it on my [redacted]. It works so well I dont need any prescription medication anymore! It softens the tough patches and relieves the itching quickly. It minimizes my flare ups like a charm! I use it on all of my minor cuts and scrapes as well. I also like that it doesn't have an overpowering scent, just a gentle earthy herbal smell.
Herbal Salve
I love this salve! I use it daily on my face and neck. I've recommended it to friends, and given away samples so they can try it, and they love it too! It soothes and heals skin very rapidly! So happy with this product!
Herbal Salve
I love this Herbal Healing Salve, It's come in handy for all rashes and insect bites. My husband has been working outside a lot and has been getting bitten, so we've been using the salve more often on him before he goes to bed. It helps him a whole lot. I use it on myself and my children with wounds and bites also. It's a great product! -Jennifer J.